11 Bible Leaves from The Book of Revelation (1601 English Rheims-Bishops')
11 Bible Leaves from The Book of Revelation (1601 English Rheims-Bishops')
This offer is for 11 authentic leaves taken from the 1601 English Rheims-Bishops' New Testament printed by Robert Barker in 1601. The Bishops version was commonly used by the Church of England. These 11 leaves contain chapters 2,6,7,8,9,10,12,13,15,16,17,20,21,22 of Revelation. Pages: 855, 856, 867-874, 879-882, 887-890, 907, 908, 911 and 912.
The text of the New Testament of Jesus Christ, translated out of the vulgar Latine by the Papist... at Rhemes... Whereunto is added the translation out of the original Greeke, commonly used in the Church of England, with a confutation of all such arguments, glosses, and annotations, as conteine manifest impietie, or heresie.... against the Catholic Church of God... (ed.) by W. Fulke. Londini: Impensis G.B., 1601. Folio.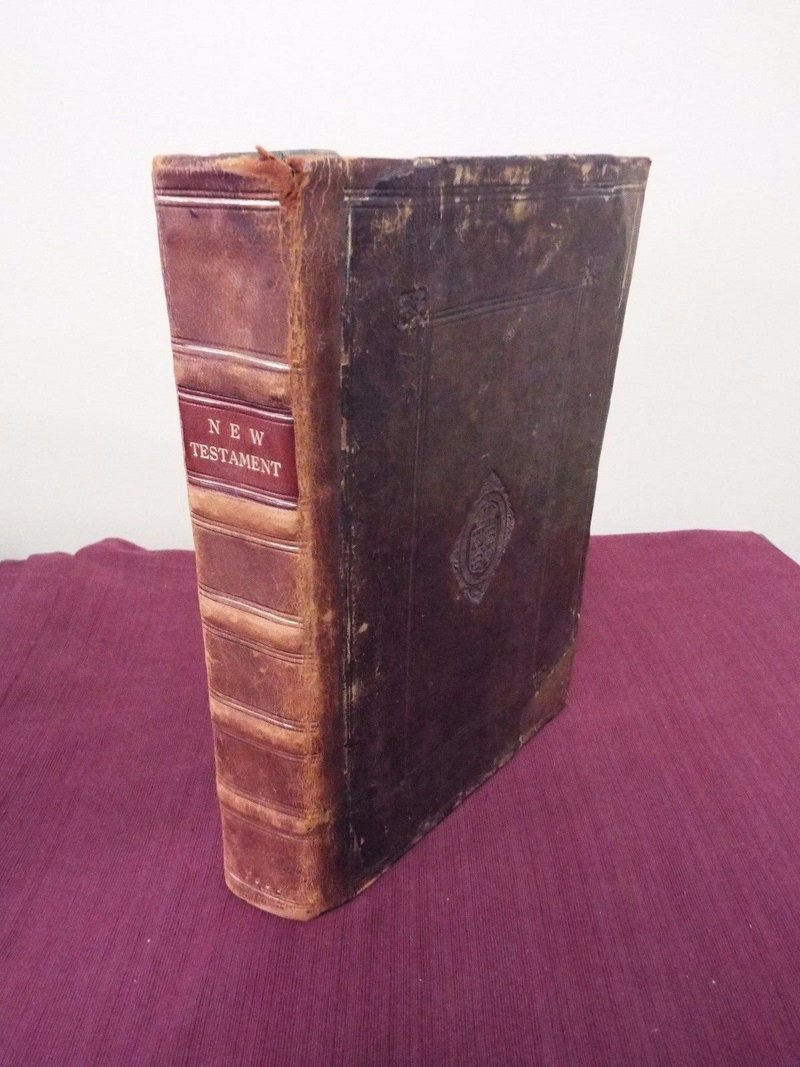 When the Jesuit scholars at Rheims succeeded in printing their Catholic translation of the New Testament into English (first edition, 1582), the event affected various English Protestant scholars in different ways: Some were offended or outraged, other intrigued and yet others spurred to action. William Fulke, of Pembroke College, Cambridge, was among those offended, outraged, and spurred: In 1589 he produced the first edition of his work attempting to refute the Rheims New Testament. His approach, however - which was to print the Rheims NT in parallel columns with the Bishops' NT (the then accepted version of the Church of England), supplying accompanying notes and explanations had unforeseen consequences.
As Darlow and moule comment, "by printing the Rheims Testament in full, side by side with the Bishops' version, (Fulke) secured for the former a publicity which it would not otherwise have obtained, and was indirectly responsible for the marked influence which Rheims exerted on the Bible of 1611." Alan Thomas elaborates by observing that "many a dignified or felicitous phrase was silently lifted by the editors of King James's Version, and thus passed into the language" (Great Books and Book Collectors, p. 108).
This is the second edition of the Rheims - Bishops' version of the New Testament, and thus the second printing of the Rheims in England. all early editions of the Rheims NT are important and most are scarce.
PLEASE NOTE: These leaves do NOT contain the full chapters that are listed above. Some may only contain half or a fourth of a chapter due to only being able to put so much on each leaf. We have listed the page numbers above to indicate which exact leaves you will be getting. ALSO THE INDENTIONS ON THE LEAF ARE FROM THE PRESS USED IN THAT DAY.
Measures about 8" X 12" with some browning.
These Leaves will all come with certificates of authenticity.
OFFICE USE ONLY: Inventory Located in Group 1:11
Reviews